CPARC helps operate and maintain the SLO County AREDN backbone. The backbone consists (as of September 2022) of three linked sites. We welcome coverage reports and reports of mesh network equipment outages to [email protected]. Several of the sites have IP cameras, which can be viewed here (mesh users can connect at http://w6bhz-aprs-pi.local.mesh/). A live map of node locations can be found here which contains node bandwidths and channel numbers so you can connect.
What is AREDN?
AREDN is the Amateur Radio Emergency Data Network. The network works as a self-forming and self-healing "mesh" network. Nodes communicate on the amateur radio portions of the 2.4 GHz and 5.8 GHz bands, where consumer Wi-Fi equipment can be modified to operate in those bands.
More information about the technical details behind AREDN and the design of mesh networks can be found here.
How do I connect to AREDN in SLO County?
Local Amateur Radio Operators interested in connecting to SLO AREDN should first contact Marcel AI6MS as he maintains an inventory of surplus WiFi equipment that has been prepared for AREDN use free for hams to use. This can save users the cost of finding used WiFi equipment, for example on eBay, and focus on getting their station set up. Marcel maintains a spreadsheet of equipment made available to the community.
However, if you would like to purchase your own node, we recommend reviewing the AREDN Supported Devices page which lists the kind of hardware you could purchase to get on the network.
To connect to the network, please view the Southern California Mesh Map here, which shows locations of all current node locations, as well as frequencies. Many nodes have a description of their antenna type indicating whether they are backbone links, sectors, omnidirectional, etc. You can then select the frequency in your node's settings and (provided you are within range) you will make a link to the node.
Information about applications you can access on the mesh can be found on our Mesh Applications page.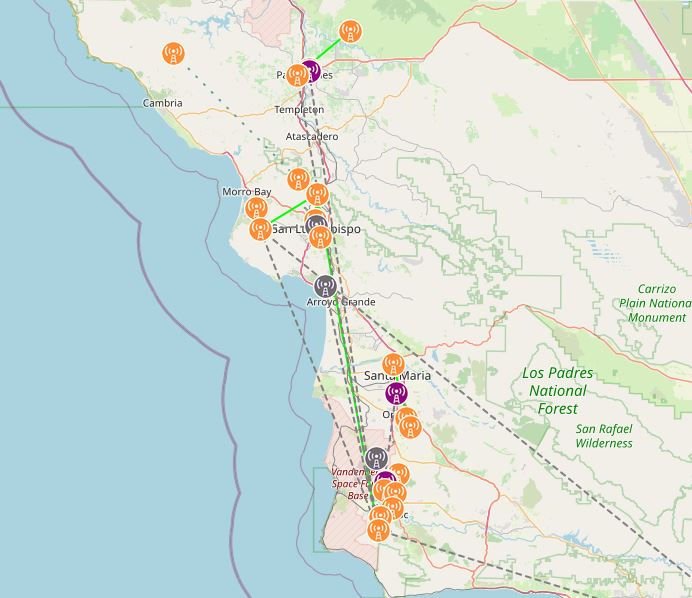 Clark Valley Relay Site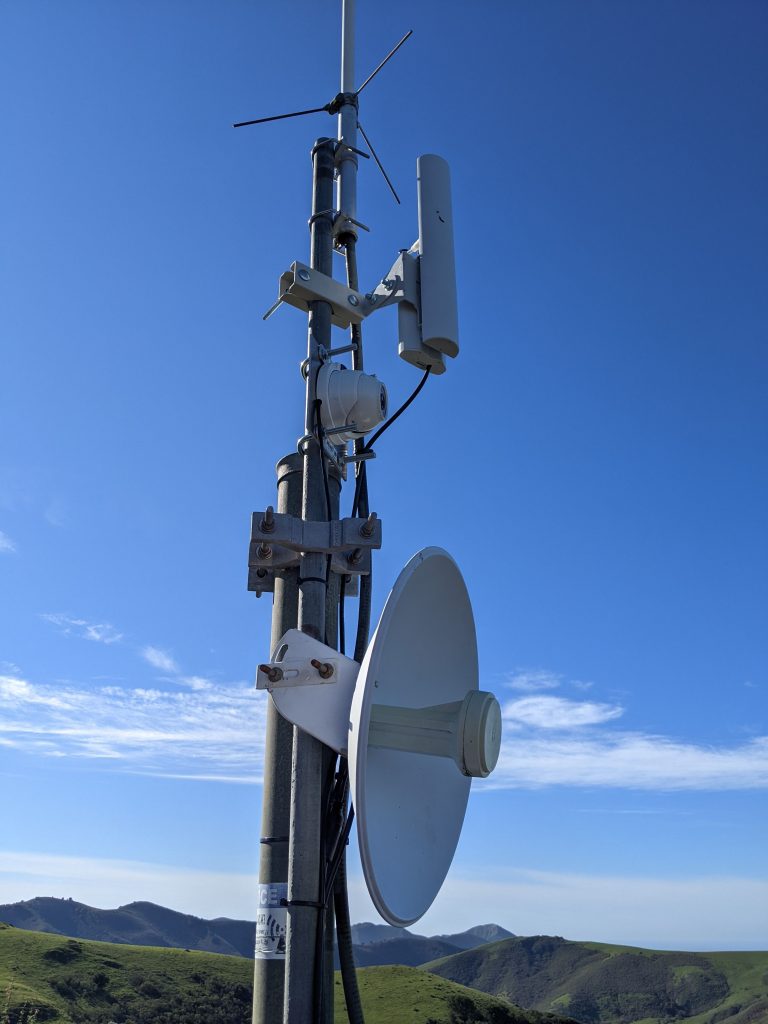 Site coordinates: 35.281695,-120.815199
The Clark Valley Relay site provides sector coverage for Los Osos and Morro Bay primarily through a Rocket M5 on a 120-degree sector antenna. Power and internet access at the site is provided by Outback Wireless. Clark Valley serves as a tunnel server and as the main tunnel connection point for SLO County users without a tenable RF connection. The site contains a mesh PBX for VoIP calls as well as an APRS IGate (W6SLO-5).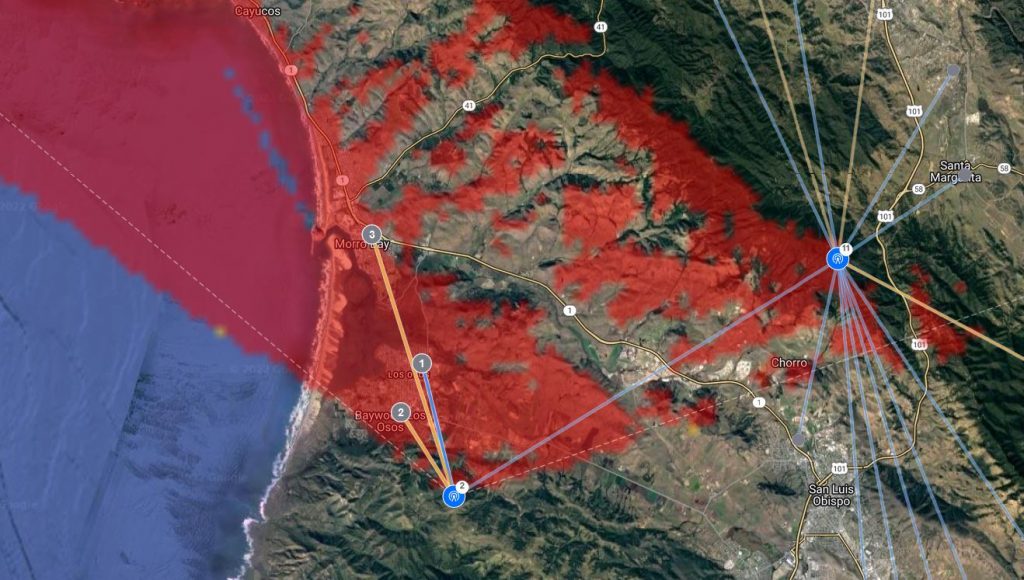 Cuesta Peak Relay Site
Site coordinates: 35.360709,-120.656934
The Cuesta Peak Relay site provides a link from Clark Valley to Cuesta Peak as well as to the W6RR site in Paso Robles. It also has a sector antenna facing roughly south towards San Luis Obispo which covers the southern part of the City of San Luis Obispo, several EOCs. Testing is also in progress of a link to Gravel Peak which will in the future hopefully link to Santa Barbara County and the greater Southern California mesh via RF.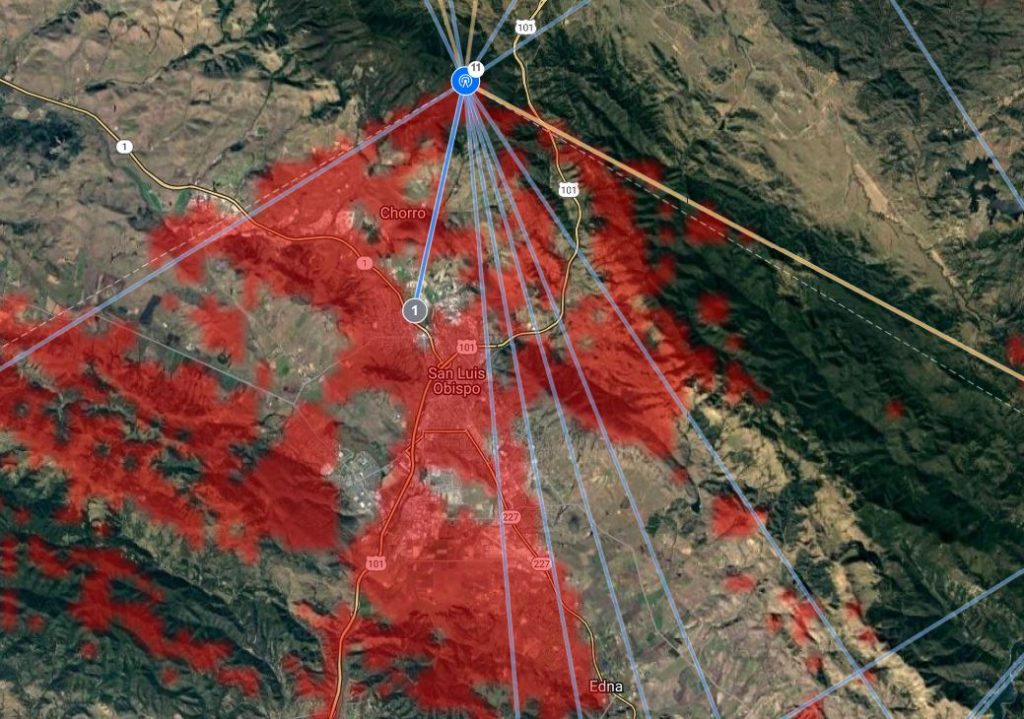 W6RR Relay Site
Site coordinates: 35.626314,-120.712428
The W6RR Relay site at the Paso Robles Radio Ranch has two sector antennas serving Atascadero and Paso Robles. W6RR is currently connected to the Gravel Peak tunnel server.