The "Shack" is the main headquarters of the club.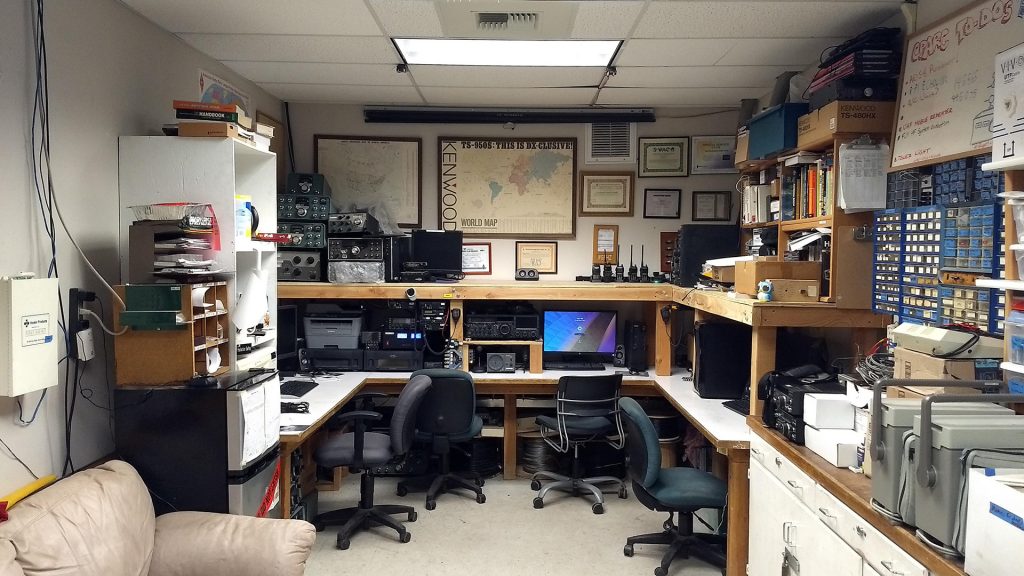 The "shack" is an Amateur Radio term for "radio room." Our radio room is located on campus in the midst of the Engineering East Building 20, room 123. There is a large antenna installed just outside the club room; just go to the base of the antenna to get to the room. Note that you can't get to the Shack from inside Building 20 you must go through the courtyard.
Current club members can access the Shack at any time via a keypad on the door. The keypad lock was installed in January 2006 and has greatly improved accessibility to the Shack. If you stop by, you'll likely see members hanging out, surfing the net, talking on HF, or even doing homework between classes.
Inside the shack is a full HF station, an APRS station, soldering iron, test equipment, computers, microwave, refrigerator, and couch. Pretty much everything a college student needs in life!
Please click on the links for more information about the shack equipment.
APRS
The APRS station at W6BHZ provides weather data through WeeWX that posts data online to APRS.fi. Live weather from our station can be found here. The weather station is an Argent Data Systems ADS-WS1 and was installed on the erstwhile satellite tower in the Fall of 2019.
Packet
Our packet system runs Winlink Express with direwolf as a TNC. The system is linked to the Tass Packet Site through a VHF Motorola GM 300.
LoRaWAN Gateway
A LoRaWAN gateway is mounted on the roof.
ADSB Receiver
An ADSB receiver has been set up utilizing the Diamond D130J Wide-band Discone. Data is fed to both Flighradar24 and FlightAware.
Equipment Pictures