The club operates and maintains three antenna towers by the shack on campus: the flagship 72-ft HF antenna tower in the courtyard, a 35-ft satellite antenna tower by the shack front door, and the 10-foot VHF-UHF tower on the building 20 roof.
HF Antenna Tower (Est. 2012)
Tower: US Tower Corp TX-472MDPL 72-foot 4-section motorized telescoping tower
Rotator: Yaesu G-2800DXA
Antennas
Hy-Gain TH-7DX – 7 element, triband HF antenna for 10, 15, and 20 meter
Cushcraft XM-240 – 2-element, 40-meter dipole antenna
Double Bazooka – 80-meter inverted-V antenna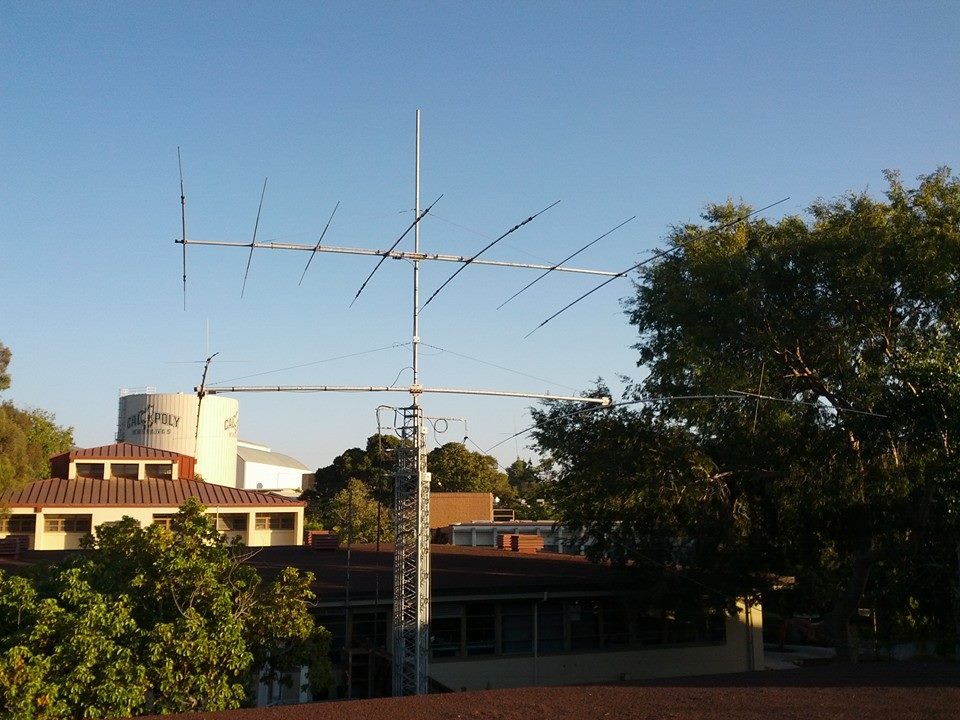 Satellite Antenna Tower (Est. 1976, remodeled in 2013)
Tower: Tri-Ex W-80 Prototype antenna tower
Rotator: Yaesu G-5500
Antennas
VHF Cross-Polarized Satellite Antenna
UHF Cross-Polarized Satellite Antenna
23-element 1280MHz Yagi
2.4GHz Dish Antenna with Ubiquiti Bullet M2 HP (pointed 15 degrees below the other antennas)
Diamond X-50 VHF/UHF High-Gain Base-Station Antenna
Chameleon ZEPP HF End Fed 80-10M Wire Antenna
Ambient Weather WS2902C Weather Station
The original W-80 tower was donated by A. J. F. Clements (W6KPC (SK), then owner of Tri-Ex Tower Corp) in 1976. This tower is a 5-section, 80-foot telescoping tower, with a motorized winch system that was rebuilt in 2009. This tower served the club for many years with a Hy-Gain TH-6DX triband antenna, a 40m dipole antenna, and an 80m inverted-V antenna.
In 2013, the old HF antennas were removed from the W-80 tower and replaced with a complete satellite-tracking antenna system. This system included VHF and UHF cross-polarized antennas for satellite work along with a 1280MHz yagi and a 2.4GHz dish antenna. Additionally, the tower was secured to a fixed height of ~35 feet to the top plate to provide a secure platform for the new satellite antenna system. This antenna system sports a Yaesu G-5500 rotator that has both azimuth and elevation controls allowing the directional antennas to be pointed at any point in the sky. The rotator is tied to a Linux machine running Hamlib and g-predict for satellite tracking, and the PC-rotator interface is accomplished using an EA4TX ARS-USB Universal Rotator Interface. This is typically used for tracking satellites or for point-to-point communications using the higher gain antennas on this tower. Due to this unique rotator configuration, this system is often referred to as the "az-el array" for "Azimuth and Elevation Controlled Antenna Array"
The wire antenna is used to listen to the 10 Mhz WWV radio in Fort Collins, CO by a personal space weather station. This weather station is a system developed by the University of Scranton along with several other universities, and the signal is used to make ground-based measurements of the space weather and propagation environment. More information can be found here.
The ambient weather station was installed in May 2022, as a replacement to our old Argent Data Systems ADS-WS1 weather station which was starting to have stability issues and intermittent communication dropouts. The real-time data can be viewed here. The station is installed on a cross-arm at the height of 35 feet off the ground, which is only about 15 feet off the roof surface in order to minimize any stray heat radiation readings or wind tunnel effects on the weather station from the surrounding building.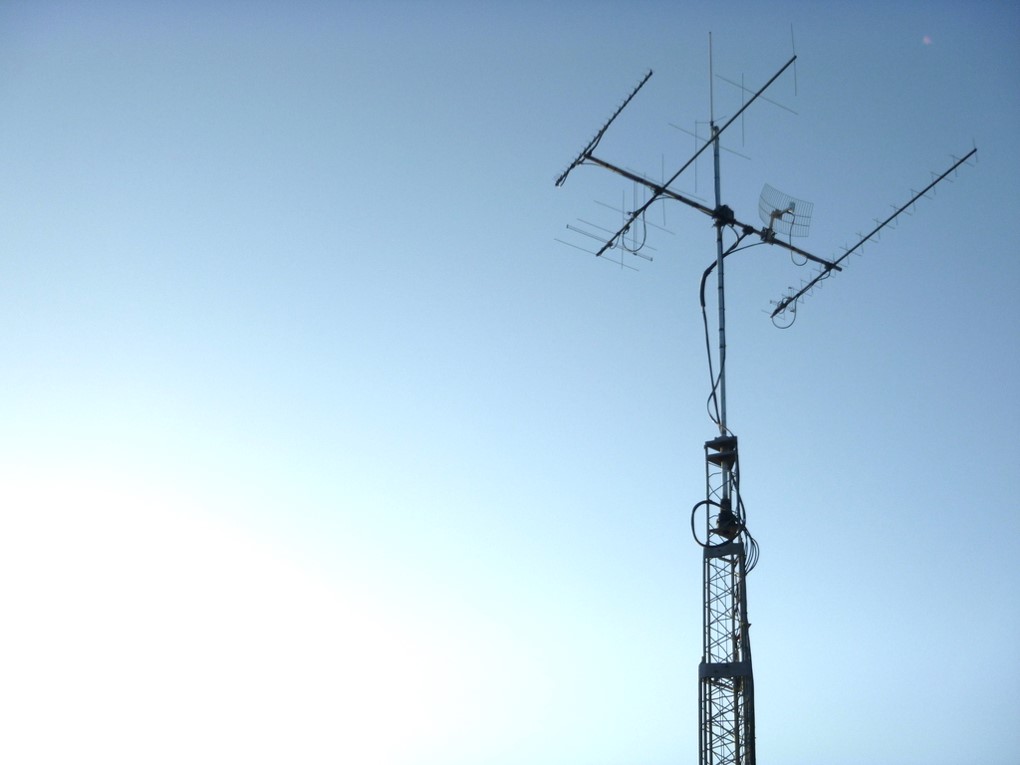 Rooftop Antenna Tower
These were established a long time ago, were remodeled in 2011, and rebuilt in 2017 as the 2nd Az-El Satellite Station for the EE Department
Tower: Rohn 25G (single top section mounted to a base plate)
Rotator: Yaesu G-5500
Antennas
VHF Yagi Antenna by M^2 (m squared), model: 2MCP14
UHF Yagi Antenna by M^2 (m squared), model: 436CP30
Additional Rooftop Antenna Mounts (moved/rebuilt circa 2017) include
4 Diamond X50A VHF/UHF High-Gain Basestation Antennas
Diamond D130J Wide-band Discone 25-1300MHz
6-meter Halo-Match Vertical HF Antenna (roof-mounted)
Diamond CP6AR Multi-Band HF Antenna